St. Patrick's Day – Origins
What started as a day for Ireland to remember its patron saint has now turned into a global phenomenon! It's the perfect excuse for the rest of the world to join Ireland and celebrate with a pint or two.  But what's really the story behind St Patrick's Day?  It's time to find out some little-known facts about Ireland's national Saint.
St. Patrick was not in fact Irish as most people would assume.  He was most likely born in Scotland or Wales in the 4th century during Roman times.  His real name was Maewyn Succat not Patrick (he changed it to Patrick while studying Christianity). As a teenager he was kidnapped by Irish raiders and brought back to Ireland and sold into slavery.
During his imprisonment he began to pray and found faith. He managed to escape Ireland and made his way back to his family after a vision told him to stow away on a boat. Many years later he had a dream that God was telling him to return to Ireland and spread the Holy word. However, not feeling ready to do this, St. Patrick travelled to France to study in a monastery. During this period, he dedicated his life to learning and after 12 years returned to Irish shores, as a Bishop.
Although he is often credited as having brought Christianity to Ireland, he was in fact not the first to have done so. However he did make Christianity more mainstream throughout the country.  For over twenty years travelled around Ireland baptizing people, opening schools and monasteries and generally spreading the Christian message.
During this period he was imprisoned many times when his teaching upset the local Chieftains or Druids.  Despite not being Irish he was gifted with Irish charm and managed over and over again to charm his way out of these imprisonments (usually by offering gifts to the Druids and Chieftains). He continued to spread the word of the Lord until his death on March 17th on 461. St Patrick is buried in Downpatrick, Co. Antrim.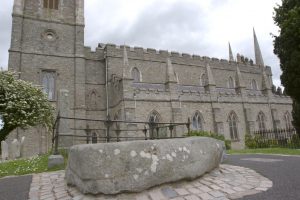 A few little-known Facts
The popular shamrock plant was used by St. Patrick to explain the Holy Trinity.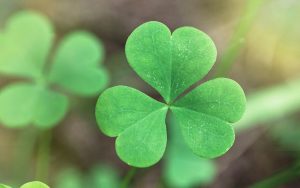 He is thought to have rid Ireland of snakes, but it is widely believed by scientists that there were no snakes in Ireland since the Ice age. The snakes the scriptures refer to are believed to be the pagans and druids.
Christianity had already been introduced to Ireland when St. Patrick returned.
The colour green was introduced in the 18th century and was linked to the Irish movement, however St. Patrick's colour was said to be blue.
Saint Patrick was born "Maewyn Succat" but changed his name to "Patricius" after becoming a priest.
Irish immigrants began observing St. Patrick's Day in Boston in 1737 and the first St. Patrick's Day parade in America was held in New York City in 1762.
On or around St. Patrick's Day, the Irish Taoiseach, or Prime Minister, presents the U.S. president with a crystal bowl of fresh shamrocks as a symbol of the close ties between the two countries.
The first U.S Parade was held in New York in 1762, when Irish Soldiers serving in the British army marched in the streets to music. The very next year the rest of the world and Ireland followed suit,. What originated as a way for the homesick Irish to remember their culture and Patron Saint has now turned into an international celebration.
Today the world turns green and iconic locations such as the Boston river, Sydney's Opera house and even the Great Wall of China join Ireland in its celebrations.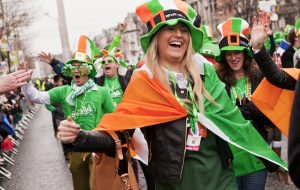 Dublin puts on the largest St Patrick's day production on the island and it is certainly worth the trip to see the parade pass by and enjoy the lively atmosphere. In rural towns around Ireland, local people put their own spin on things with the parades including everything from kids dancing, livestock, tractors and vintage cars going by as the locals wear green and cheer.  It's a national celebration and a great opportunity to come together with family and friends to celebrate our beautiful country.